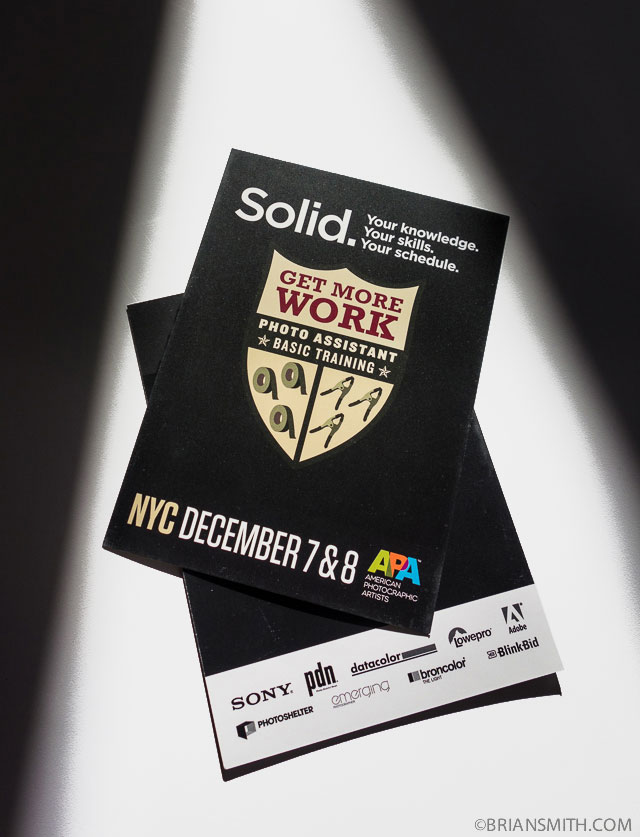 Get a major head start on a career in the photo industry. Join Brian Smith and APA New York Chapter Chair Tony Gale in New York on December 7-8, 2013 for a great event for photo students, assistants and emerging photographers – Assistant Basic Training.

You'll get expert instruction not available anywhere else with panel discussions, equipment demonstrations from industry experts, and hands-on training, attendees will come away with the essential knowledge and confidence to build your own Pro Assistant reputation. Acquire a comprehensive understanding of professional assisting behavioral guidelines, including contemporary set-etiquette, and discover how this valuable training will get you more call-backs – more repeat clients, more work.

Where: Splashlight New York
One Hudson Square, 75 Varick Street, 3rd Floor, New York, NY 10013
When: December 7-8, 2013
DAY ONE: Saturday, December 7, 2013

Kicks off with the popular "Assistant Panel" which includes experts on working as a photo assistant. Get real world answers to all questions from the attendees. Following the panel discussion will be exciting live software and equipment demonstrations with industry reps from Sony, Profoto, and Adobe. Learn from the pros. Industry reps will be on hand to answer all your questions.
DAY ONE PANEL DISCUSSION PANELISTS

Tony Gale – Award winning Photographer, APA NY Chapter Chairman
Brian Smith – Pulitzer Prize-winning Photographer, Sony Artisan Of Imagery
Kayla Lindquist – Director, Sony Artisans of Imagery Program, former Photo Assistant
QUESTIONS AND TOPICS THE PANEL WILL COVER

How should an aspiring assistant approach a photographer?
How did you get your first assistant job?
How do I find photographers to work for?
What rate should an assistant charge?
What is the difference between a tech and an assistant?
How long should I wait to get paid?
Who besides a photographer should I contact to get assisting work?
What do you look for in a photographer you work for?
What should an assistant bring to a shoot?
What questions should an assistant ask when called for a job?
What do you say if asked if you are a photographer too?
What do you do if you have to make a call? Cell phones on set?
Networking and social media?
What non-photo skills should I have? Social Media, blogging, self promotion etc?
How should you dress/appear?
What about mixing male/female assistants?
Travel? Overtime?
Assistants as employees/freelancers?
How and should an assistant be picking up gear and equipment before & after shoot?
Interns? Are they paid?
How much of your own work do you shoot will being a busy assistant?
Questions for the Photographers on the Panel:

When was the last time you used a new assistant?
How did you find them?
What do you look for in an assistant?
DAY TWO: December 7, 2013

Full on, hands-on workshops with much of the gear an assistant will most likely encounter on the majority of professional photo shoots. Many aspects of assisting will be explained in great detail, i.e. strobes, hot lights, flags, scrims, set etiquette, the assistant kit, tips on getting work, billing, and how to deal with the dreaded cancellation. Following classroom discussion and demonstrations, participants will work along side the Pro Photographers to discover crucial pro assisting skills.
Master Assisting Professionalism. Get booked solid.
REGISTER NOW

UPCOMING EVENTS:

Feb 22 & 23, 2014: San Francisco Assistant Basic Training with Matthew Jordan Smith and Tony Gale

More speaking appearances by Brian Smith.