Hey South Florida photographers! Stop by the Miami Ad School on Thursday, April 9, where I'll be speaking to ASMP South Florida about 'The Psychology of Portrait Photography'.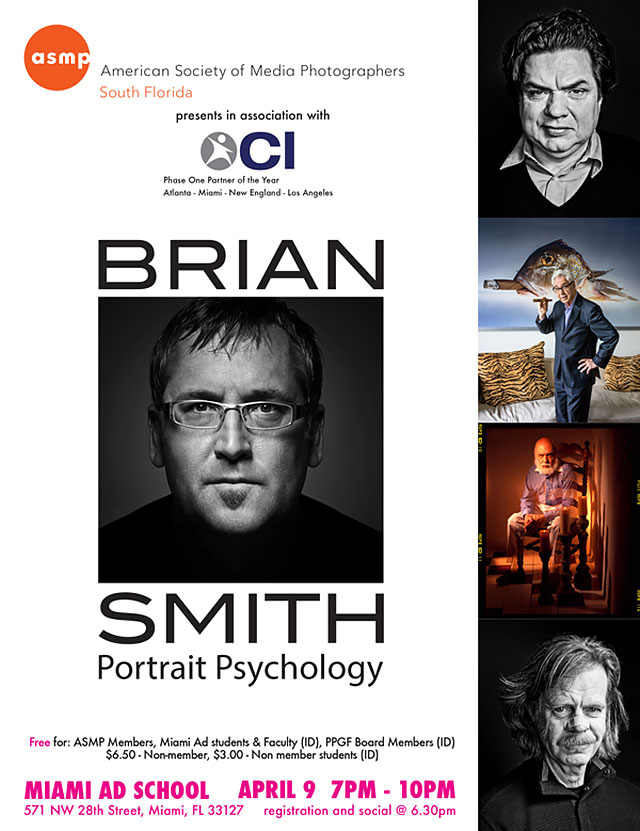 ASMP-SFL Presents: Brian Smith – Portrait Psychology
Portrait photography is 10% technique and 90% psychology – the most important buttons you push are not on your camera. Learn how to engage your subject and capture the essence of their personality in a single portrait. Miami celebrity portrait photographer Brian Smith will share the keys to creating thought-provoking conceptual portraits to lift you portraits to the next level. Find out how to sell your ideas to your subjects and clients and how to improvise and let go of the reigns when it leads to the best shot.
Miami celebrity portrait photographer Brian Smith is the luckiest guy on the planet. He won a Pulitzer Prize at 25, he's told Bill Gates exactly what to do for an entire hour, appeared on The X Factor, exhibited at the Library of Congress, dined with the President and 3,000 of their closest friends, shared cupcakes with Anne Hathaway, gotten drunk with George Clooney and married the most beautiful woman he ever laid eyes on…
When:
Thursday, April 9, 2015
7:00 PM – 10:00 PM (Social time starts at 6:30 PM)
Location:
Miami Ad School – 578 NW 28th Street, Miami, FL
View map
Admission:
$0.00 — ASMP member
$0.00 — Miami Ad School students & faculty
$6.50 — non-member
$3.00 — Other student – non member
Other Registration Options: Besides registering via our website, you can register by calling ASMP at 215.451.2767 from 9-5 EDT. Attendance may be limited, so please register early.