SALE RUNS NOV. 27 - DEC. 2
Use this link to receive free gear and free U.S. shipping on all orders over $50, and so that you to receive your commissions:
Adventure photographers need a camera bag that's as tough as they are. With their rugged materials and faceted design, the MindShift PhotoCross sling bags will protect your gear from another punishing trip into the wild.
The PhotoCross is built to withstand the elements, yet comfortable enough to wear on long days in the field. This sling bag stays put when you're scrambling but offers quick access to your camera when you're ready to take the shot.
Durable materials provide abrasion resistance and weatherproofing.
Weatherproof zippers with ergonomic T-pulls for gloved fingers.
Rotate the PhotoCross from back to front for quick access to your gear.
Provides tripod or jacket carry with the included straps.
Additional Features
Dedicated, padded pocket fits a tablet or a laptop (10 = 10" tablet, 13 = some 13" laptops)
Waterproof Tarpaulin bottom panel
Superior comfort with body-conforming design, wide shoulder strap and stability wing
3-point harness for stabilization with tuck-away waist belt
Secure your bag by linking the zipper pulls together
Water bottle pocket locks in most 1 liter bottles
Breathable 320G air-mesh back panel keeps your back cool on long days
Internal zippered pockets for batteries, memory cards or other small accessories
Easily accessible front pocket for filters, snacks, or a light layer
Top and side carry handles
Fully customizable interior dividers for photo or personal gear
Seam-sealed rain cover included for downpour conditions
Sony A7II with 28–70mm f/2.8 attached, 16–33mm f/4, 27–200mm f/4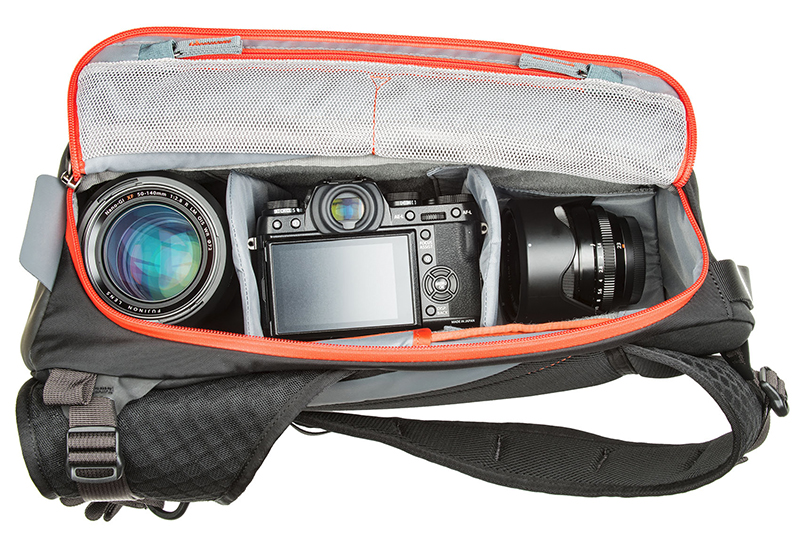 FujiFilm X-T2 with 16mm attached, 50–140mm f/2.8, 23mm f/1.4, 56mm f/1.2
Olympus OM-D E-M1 Mark II with 12–100mm f/4 attached, DJI Mavic and controller
Canon 5DMKIII with 24–70mm II f/2.8 attached, 16–35mm f/2.8
Nikon D750 with 24–70mm f/2.8 attached, 70–200mm f/2.8, 14–24mm f/2.8
Canon 5DMKIII with 24–70mm II f/2.8 attached, 16–35mm f/2.8, 70–200mm f/2.8
Sony A7II with 24–70mm f/2.8 attached, 70–200mm f/4, jacket
Fully customizable interior dividers for photo or personal gear
HIGHLIGHTS
Think Tank Photo is slashing 40% off their PhotoCross 10 & 13 slings bags from Thursday Nov 27 through Monday Dec 2. Normally $129.99 (PhotoCross13) and $114.99 (PhotoCross10) the slings will be marked down to $77.99 and $68.99 as long as supplies last!

The PhotoCross is built to withstand the elements, yet comfortable enough to wear on long days in the field. This sling bag stays put when you're scrambling but offers quick access to your camera when you're ready to take the shot.

Use this link to receive a free Think Tank product and free U.S. shipping on all orders over $50:


https://www.thinktankphoto.com/collections/photocross-sling-bags?rfsn=165002.6dc14