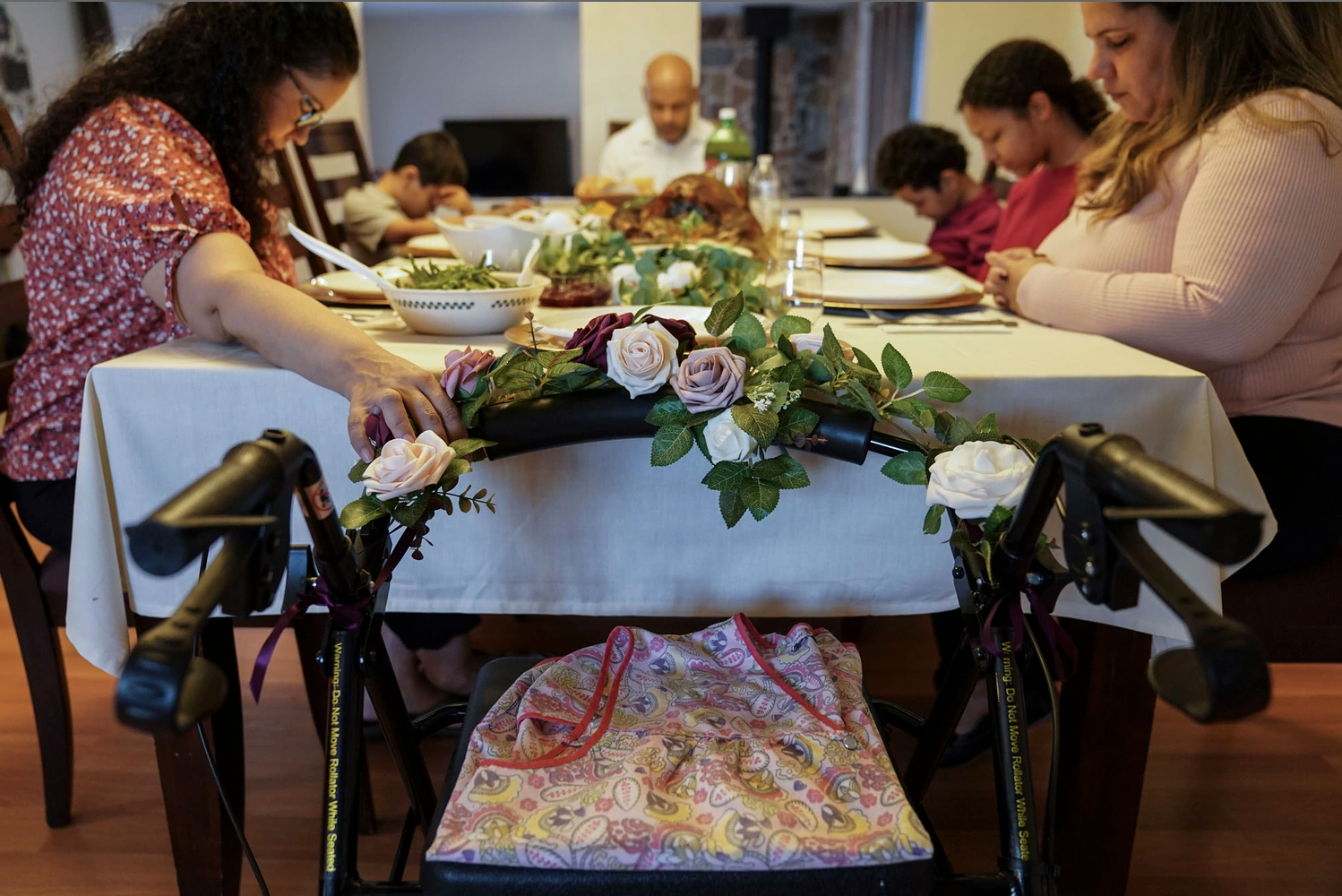 An Empty Seat

Connecting with families to photograph their most private moments is a delicate, time-honored tradition in photojournalism made even more difficult by COVID-19 restrictions. But as Americans marked Thanksgiving on Nov. 26 amid a pandemic that has killed more than a quarter of a million people in the United States, AP photographer John Minchillo deftly captured one New York family's deep loss in a poignant photograph that resonated across the country. In the intimate photo, Vivian Zayas reaches out during the family's pre-meal prayer to grasp the flower-draped walker of her mother, Ana Martinez, who died in April from the virus in a nursing home. Minchillo shoots from the perspective of the empty place setting, focusing on the neatly-folded house coat and fading into the family's collective heads bowed in prayer over turkey and green beans. In one instant, story-telling image, a country's Norman Rockwell moment has slipped into sadness and regret.

Patrick Farrell is the 2009 Pulitzer Prize-winner for Breaking News Photography for The Miami Herald, where he worked from 1987 to 2019. He is currently a Lecturer in the Department of Journalism and Media Management at the University of Miami School of Communication.

Jodi Mailander Farrell is a former Miami Herald reporter and editor who is an adjunct writing instructor in the School of Communication at the University of Miami.
NOVEMBER 22, 2020
DO OR DYE

The powerful still image stops time, allowing us to study the moment and ask life's big questions. Why are we in this war? What can we do to prevent this from happening again? What the heck is dripping down Rudy Giuliani's face? European Pressphoto Agency (EPA) photographer Jim Lo Scalzo's sharp, frame-filling close-up of Giuliani's leaky sideburns at a Nov. 19 press conference dominated viral photos under scrutiny this week, as the world's top political journalists called in hairdressers for analysis. Was it hair dye? Mascara? The mystery liquid streaking the cheeks of President Donald Trump's sweaty personal lawyer became a meltdown metaphor for a wild, rant-filled 90-minute presser at Republican National Committee headquarters in Washington, D.C., where Trump's campaign legal team continued to claim widespread voter fraud won the presidency for Joe Biden. Years from now, when we start to wonder if 2020 was really as bizarre as we remember it, Scalzo and other photographers won't let us forget. We'll have this moment, with the American flag in the background, as our reminder—a photo with staying power any hairdresser would dye for.
VICTORY FOR AUNTIE

Wearing suffragette white like their history-making great aunt, two little girls caught the nation's eye when they stepped out on stage in Wilmington, Delaware, on Nov. 7 for a victory celebration. But it was a behind-the-scenes photo by their mom that captured the meaningful moment best. Proving that access and Robert Capa's "you're not close enough" rule still prevail, the family photo by Vice President-elect Kamala Harris' niece Meena Harris is an unguarded ta-da moment celebrating Harris shattering one of the world's most obstinate glass ceilings to become the first woman, first Black person and first South Asian American to be elected vice president of the United States. "While I may be the first woman in this office, I will not be the last," Harris told the crowd. Flanked by two American flags, Amara Ajagu, 4, and her 2-year-old sister responded with little girl joy.
THE COUNTRY VOTER

In 1948, shooting for Life magazine, master photo essayist W. Eugene Smith created a series of pivotal photographs called "The Country Doctor" that captured the isolated drama of small-town life in the remote Colorado Rocky Mountains. Getty Images photographer Mario Tama channels Smith and the sweet Americana of painter Norman Rockwell in this Nov. 3 powerful storytelling image of Holly Schuler with her kids in tow as she heads to cast her ballot at dusk on election day at Sherman Township Hall, a former one-room schoolhouse in Zearing, Iowa. Shooting from a low angle, Tama silhouettes Schuler and her children against the crisp sky's fading light. He balances the golden light dancing off the façade of the old schoolhouse and the inviting warmth of the interior light, pulling back just enough to include the American flag gently waving in the wind. The small red taillight of the lone car on the horizon blinks a solitary spot of color. In a noisy presidential election year, Tama's quiet composition whispers volumes about the power of a single vote.
MIRROR MIRROR

How many state houses can you count? Boston Globe photographer John Tlumacki has made images for 30 years that give New Englanders an extraordinary perspective of their beloved home and beyond, from the Boston Marathon bombing and the Winter Olympics to wildlife and the fall of the Berlin Wall. The Pulitzer Prize finalist takes our eyes to another dimension with his mind-bending macro photograph on Oct. 29 of raindrops on the window of a car parked on Beacon Street repeatedly mirroring the Massachusetts State House. It's a classic example of how our seemingly mundane surroundings can become quite incredible if you take a closer look.
BACK IN THE SPOTLIGHT

Recalling New York Times photographer Damon Winter's memorable, Pulitzer Prize-winning photos of Barack Obama during his 2008 presidential campaign, the AP's Matt Slocum captured a hazy, dramatic image of an older, grayer former president back in the spotlight Oct. 21 as he stumped for Joe Biden in Philadelphia. Slocum marked the rare appearance by exposing for the light illuminating Obama, allowing the rest of the image to drop off into the moody darkness of the drive-in rally of about 300 cars outside Lincoln Financial Field.
VIEWPOINT

The campaign trail can be long and grueling for candidates, but also for photographers trying to overcome restricted access with extraordinary angles. New social distancing rules compound the challenge. Photographer Roberto Schmidt, who has shot a deadly Mount Everest avalanche and been held hostage in Libya during his 25-year career with Agence France-Presse (AFP), relied on his quick reflexes to adapt to a media scrum around Democratic presidential candidate Joe Biden on Oct. 10 in Erie, Pennsylvania. Schmidt dropped low and framed Biden with reporters' extended arms for his uncommon portrait of political life on the road. He anchored the image with a reporter's smartphone and masked profile in the bottom left corner and adjusted exposure to keep the light from the sky darkening his primary subject. The added visual element of a big, colorful umbrella provides diagonal shapes that lead the eye to the center of the photo, which captures a time and place like no other that day.
WILD GOOSE CHASE

Moonlight, sunlight, thunderstorms, joggers, dancers, tourists and even the random goose make cameo appearances in the stunning New York City skyline photos of former Reuters photographer and photo editor Gary Hershorn, whose new photography book, "New York Celestial," is a love letter to light and shadows in Gotham. Hershorn's Instagram feed is like eye candy for photophiles and I Love New Yorkers. Posted on Oct. 4, his striking image of a goose strutting in an empty lot in Union City, New Jersey, plays with depth and layers as the sun rises behind the Empire State Building across the Hudson River. Hershorn's long lens compresses the depth, which pulls together background and foreground. A starbursting sunrise sandwiched between goose and ESB adds POP! The vantage point creates an eye-stopping, multi-dimensional King Kong moment that makes the viewer see the world in a new way.

MIGHTY GIRL

For a story about retired Olympian weightlifter Mercy Obiero training her 10-year-old granddaughter in Kenya, The Sun newspaper photographer Monicah Mwangi dropped down to get a low angle and shot up for a powerful photograph that captures the drama of the little girl lifting weights in a Nairobi gym on Sept. 18. It's difficult to position yourself in a small, crowded space, but Mwangi wisely shrunk down to accentuate the moment and avoid her own reflection in the gym's mirrors. Keysha Atiky's granny, the first female weightlifter from Kenya to make it to the Olympics in 2012, also is absent from the image, but her presence is felt in Keysha's tenacious stance and expression.
SEPTEMBER 27, 2020
HELLO, DARKNESS, MY OLD FRIEND

With symmetry and patterns, AP photographer Ariel Schalit captured a lone cyclist—and the overwhelming isolation of Israel's second coronavirus lockdown on the first day of Rosh Hashanah—in a single photograph from Tel Aviv on Sept. 18. Circular red and green traffic lights mimic the shape of the blazing yellow hole in the sky, guiding our eyes toward the solitary figure riding into the sunset. Even the repetition of arrows on the empty street and the surrounding darkness point the way. With a new three-week lockdown imposed due to a steadily worsening COVID-19 outbreak, the image told the story of a nation once again shutting down its roads, markets and beaches, launching a defense of self-imposed solitude against the return of a silent killer.
SEPTEMBER 20, 2020
RIP RBG

The death of U.S. Supreme Court Justice Ruth Bader Ginsburg on Friday sparked national mourning and an inevitable political battle over the future of the highest court. Shooting for Reuters, Washington, D.C.-based photographer Al Drago clearly captured the mood of RBG's millennial fan base and the looming ideological struggle ahead as he documented the crowd of hundreds gathering for an impromptu vigil on the courthouse steps. With young mourners in focus in the foreground facing the unmistakable blur of the Supreme Court Building, Drago's solemn image speaks volumes about the loss of a liberal legal legend, its historical implications, and the bond between a young generation of women and the diminutive-yet-towering women's rights champion who fought and thought for them.
SEPTEMBER 13, 2020
KEEP YOUR EYE ON THE BALL

Natural disasters and street conflicts are challenging assignments, but the real test of a skilled shooter is producing a photograph from an all-nude event that can actually be published. Study, if you dare, photographer Leon Kuegeler's well-timed image from a Sept. 6 soccer match in Germany, where players shed their uniforms– and, some might say, their dignity– to protest the increasing commercialization of professional soccer. Shooting for Reuters, Kuegeler captured the shrinking moment when concern for future lineage triggered a rare use of hands. No masks or knickers. Just flying feet and, um, physiques. How did they measure for social distance or tell their teams apart? By the length of their socks? In a week of heartbreakingly incredible photos of wildfires, children returning in masks to school, and clashes between street protesters and police – made even more horrifying when viewed from our coronavirus-imposed isolation – Kuegeler's cringe-worthy distraction permits us to crack a rare smile.
ONE STRIKING IMAGE

As a longtime photographer in the Washington Bureau of The New York Times (and one of the few members of the media to be dubbed a "genius," by President Trump), Doug Mills spends a lot of time looking through a camera at the president. On Aug. 28, his skill and lightning reflexes paid off with a well-timed photograph that shows a streak of lightning passing behind President Trump as he walks off Air Force One at Joint Base Andrews, Maryland, following a New Hampshire campaign rally. The position of the car's headlights and the bolt itself direct your eyes to the umbrella-toting president. The silhouetted salutes of the surrounding military personnel convey the pomp and circumstance of the moment. Shooting from a low position, Mills captures it all in one well-composed, fleeting instant.